Kitchen Garden - Landscaping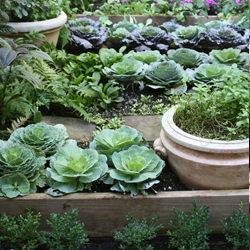 Kitchen gardens have been around since people first decided to grow plants for their use rather than simply gathering them from the wild. It's the ultimate in practical gardening growing fruits, veggies, herbs, and edible flowers right outside the kitchen door.
The traditional kitchen garden is a space separate from the rest of the residential garden – the ornamental plants and lawn areas. Most vegetable gardens are still miniature versions of old family farm plots, but the kitchen garden is different not only in its history, but also its design.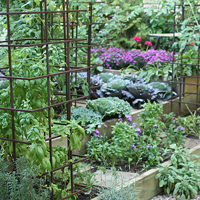 The kitchen garden may serve as the central feature of an ornamental, all-season landscape, or it may be little more than a humble vegetable plot. It is a source of herbs, vegetables and fruits, but it is often also a structured garden space with a design based on repetitive geometric patterns.
With worsening economic conditions and increased interest in organic and sustainable living, many people are turning to vegetable gardening as a supplement to their family's diet. Food grown in the back yard consumes little if any fuel for shipping or maintenance, and the grower can be sure of what exactly was used to grow it. Organic horticulture, or organic gardening, has become increasingly popular for the modern home gardener